Jacobs Ladders is a pivot based trading system that provides perspective on high quality, profitable trade setups for day traders. The purpose of this blog is to educate day traders on this trading system and provide links to the levels on a daily basis. You may wish to bookmark this page.
JACOBS LADDERS PIVOT TABLE LINKS (updated daily at 10:01am EST):

INDEXES
CURRENCIES
ENERGIES
METALS
BONDS
COMMODITIES
The objective of the Jacobs Ladders is to help day traders identify and capture a minimum price movement between any two adjacent pivot points. This system when used correctly will improve the consistency of winning trades and helps minimize risk and losses.
In this weekly blog series, I will point out set ups that occurred during the past week that are illustrative example of how to use Jacobs Ladders for day trading. These examples have been tweeted out on our public twitter feed, you can follow along here   @the_artofchart.
For more educational information, please see the previous introductory post introducing Jacobs Ladders day trading system which can be found here.
Example – When a set up fails 
A noteworthy teaching example was on ZB on Wednesday. ZB was in long set up in the big picture.. A Low level is perfect way to try to a long with high chance of getting risk out and catch a decent move with a runner. I tweeted the set up in advance.
The first touch of Low bounced to next level up. But price tested Low level again. The second test did start to lose support. Here is a tell tale sign of losing support,  I use is three five minute bars printing on the opposite direction of set up. If that happens, look for an exit at break even or for a small loss. A highly likely occurrence is a full back test of that level giving an escape hatch. I would rather exit a trade that appears to be failing than staying in for the fear of missing out . There is always a clean entry coming again, either in the same instrument of  any of others we cover. There should be no lack of opportunity to make a 2 rung move in a day . See chart below.
Now lets look at each day of the week an  see the set ups that are good example to learn the system.
Monday
Gold- an example of catching a move after booking the day's goal.
A trader could have made the two rungs moved and stopped or if wanted, stayed in for more move as Gold was in good set up to retrace and indices gapped up about 15 points at open. This is what I called situational awareness.
This is also an example that each level did its job as pause level. First as possible bounce first on the move down. Any one tried a long got their money back and as price converted to resistance, an ability to get back short.
Another teachable point is that, using this system, if you miss the first move, there were multiple opportunities to get into the main trend of the day using next ladder rung.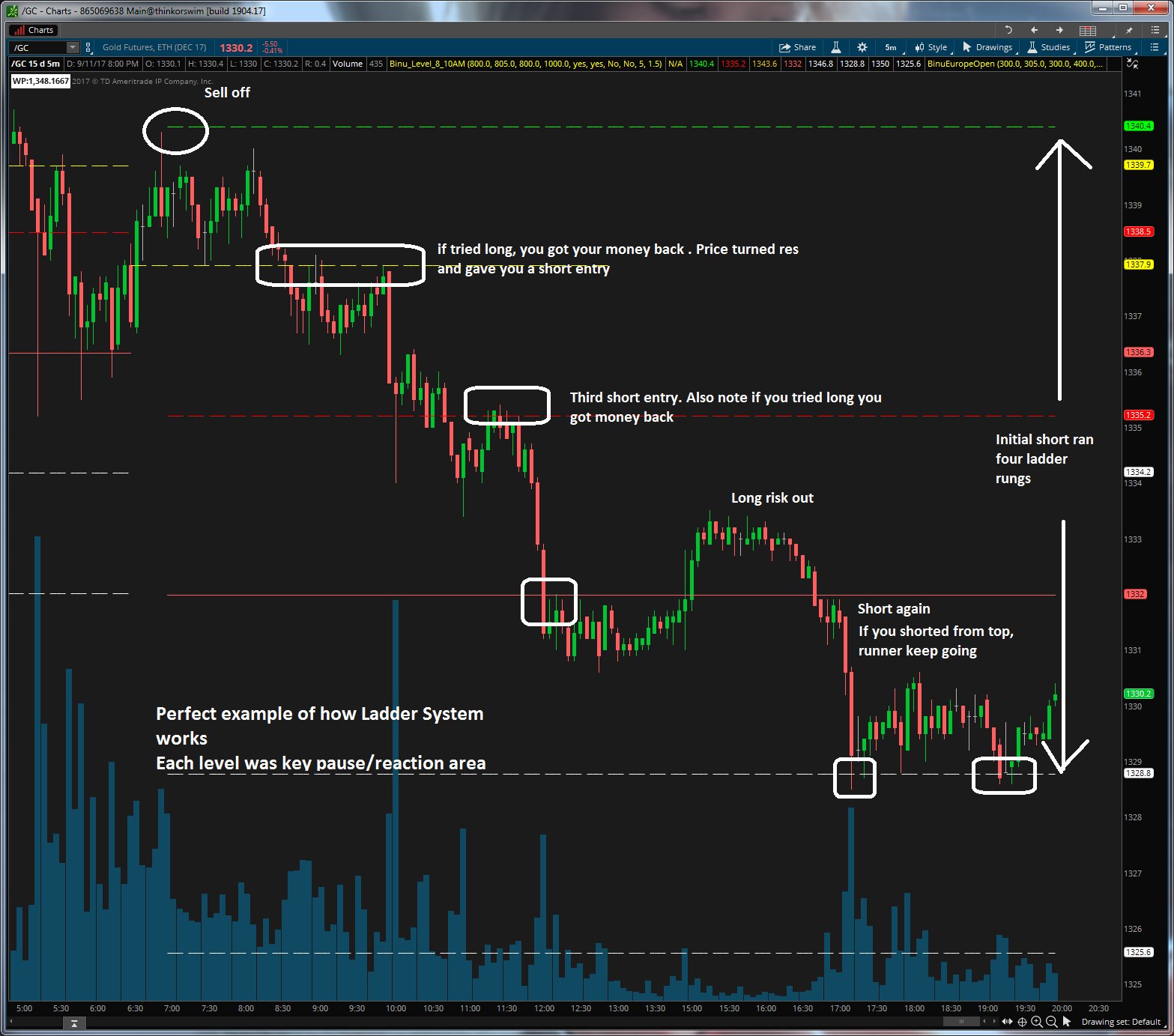 YM – An example of level conversion getting out of a trade with minimal loss.
Here YM hit High first. It was a grind up day. Price went steadily up without a pull back. If a trader tried a short, this chart shows how to watch for level conversion, get out for small loss and how to detect a set up for long off of the same level instead.
Tuesday
ES AM Chart capturing two rungs
Wednesday
The bread and butter two rungs capture was done easily using ES. From a back test to OPG to Level High
Thursday
A big winner was CL. A 100 tic move
Note sell off started at High 1.  If anyone faded High , they would have got money back.
ES was a non event day, the market did not move full two rungs. The opening set up  captured the first rung from Open to Lower high in no time.
Another teachable moment was when market  gapped down on Globex session open with a news of N Korean firing another test missile
Even when a news sell off happens (or rally happens ), price finally reaches a pause point and it will be at a level to trade against. So instead of trying a random low or high, a trader can use Jacobs Ladder to trade in a risk responsible way. Wait for price to latch on to a level, watch for at least an initial reaction to level then take a trade against.  Here taking a trade again the Higher Low  worked beautifully, price bounced enough to take a partial profit, then it hit the next level up (Open), and progressed towards next level up which is 93.75 ( Higher Low).  The advantage is that if trade does not work, the chance of taking partial profit or escaping at break even is very high
Friday
ES did the  back test and launch from Open Level  to Level High again.
This was tweeted
Again, 10 minutes before regular trading session close, level High was getting converted to support. In the next seven minutes ES climbed one more rung to High1 to touch 2500.
A notable champ of the day was copper. Level low was touched to the tic and bounced right away. Copper captured three rungs and change.
Save
Save
Save