I plan to cover just three cryptos every week in this post: Bitcoin, Litecoin, and Ethereum. These instruments provide trading opportunities with out sized gains. I hope the analysis presented here helps you profit in these instruments.
BTCUSD — Retesting the high and RSI has already indicated the decline for a retest has started. Likely this is a wave B playing out and looking for a 5 down to the previous low or the S1 for wave C and completion of the retracement.  The decline is expected to continue into 16345 or the broken rising resistance trend line. Watching for a completion of the retracement and then higher highs into March as discussed. The trend line that has been overthrown is possible support, I am expecting the floor ceiling just below.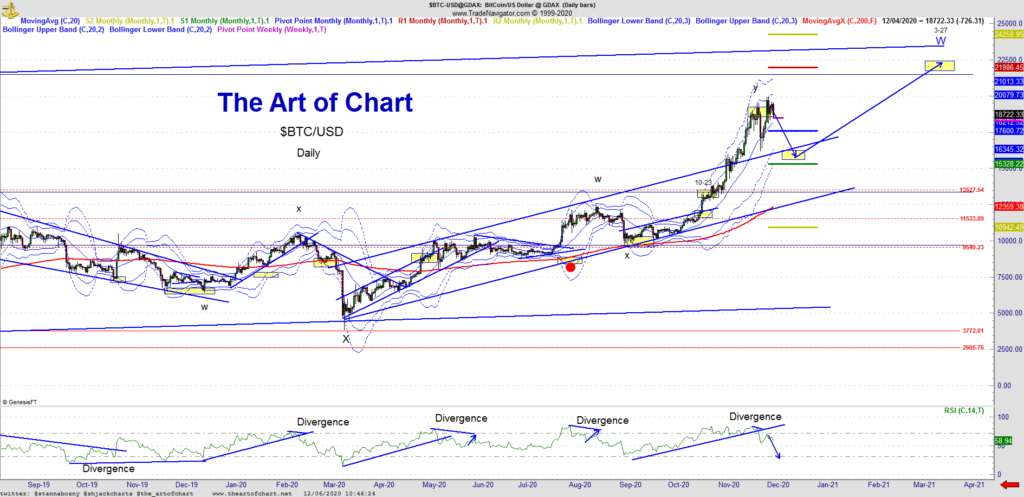 ETHUSD – Much like BTC – may be a retest of the high and now setting up negative D or could be wave B – either way retracement is needed and the floor ceiling  to the previous swing low is possible here. This is an extremely overbought market and as a result middle band is the minimum target for the retrace. I remain bullish into March, more upside to continue.
LTCUSD – Retest of the high and RSI is exactly like BTC – likely a B wave here and looking for the completion of the retracement into the previous low. Once seen, this and the other cryptos are a buy into March.  Expecting lower into $65 then a higher high into March as discussed.

Crypto's have all retested the high which is a bearish sign given the RSI setup. Looking for a decline this week into the targets already mentioned. Buy the dips by looking for positive D setups on shorter term charts on RSI. I remain bullish Crypto's into March of next year. Trade Smart and Trade Safe.