This is a weekly post covering Cryptocurrencies, specifically  Bitcoin, Litecoin, and Ethereum. These instruments provide trading opportunities with out sized gains. I hope the analysis presented here helps you profit in these instruments.
BTCUSD — Still waiting on a pull back and not much progress. This is expected and waiting at least for monthly pivot and an RSI of 30-40. Cryptos are buy-able and recommendation is accumulation on long setups.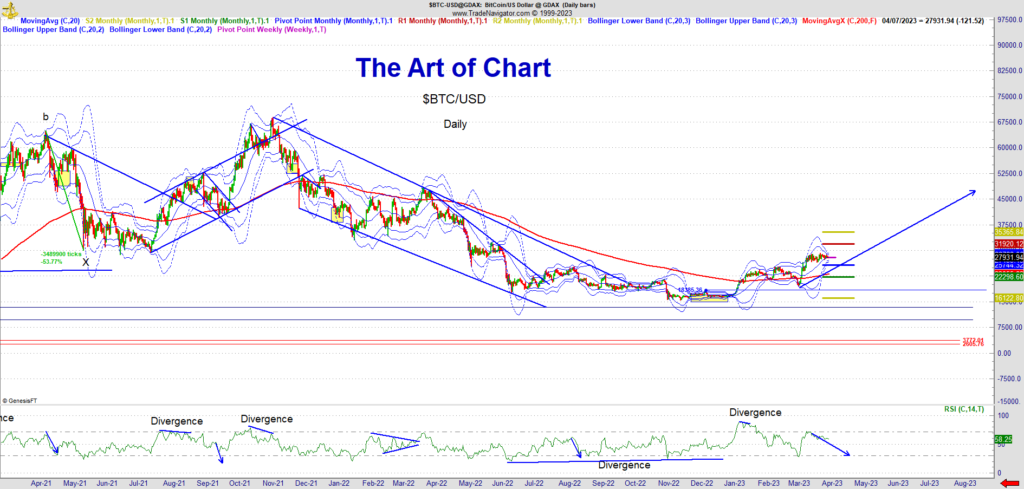 ETHUSD –    Time to start accumulating as discussed, bands pinching and looking for lower bollie for abuy-able pull backs. RSI of 30-40 are good areas to consider.
LTCUSD –  Not as big an advance as BTC and ETH. Look for a conversion of the high to confirm the turn is in. As the market leaders go higher LTC will follow.

The turn appears to be in and looking for more upside after the retracement in the lower bollie. Bands a pinching which is a precursor to a move. Start accumulating on buy-able pullbacks, will point out  setups here weekly.   Trade Smart and Trade Safe.