Crypto-currencies are now mainstream trading instruments. I am providing charts in this blog on a weekly basis. I plan to cover just three cryptos: Bitcoin, Litecoin, and Ethereum. The point of this weekly post is to show the crowd psychology behind the price movement to support high-quality trades.
BTCUSD — Target achieved at 3574, positive D in place and now a possible higher low. It appears we have turned on BTC right on the cycle date of 11-25. If the higher low holds, the turn confirms on a break and conversion of 4705. This in place, I have the next cycle high in April of 2019. I think we may be putting in Major Degree wave B here. Higher prices expected into 9000s expected by April.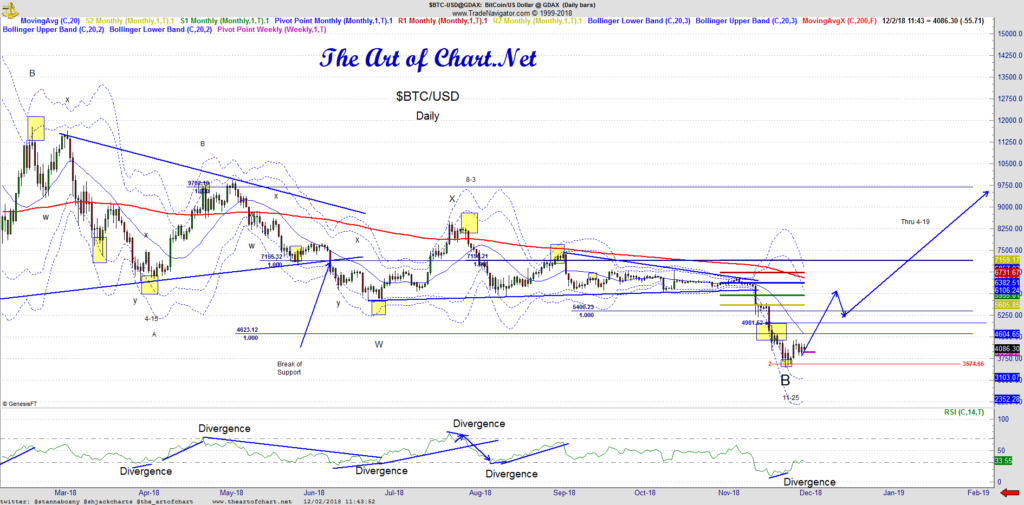 ETHUSD — Target achieved here too, 91.13 on the number, nice turn on the cycle date too. Positive D on RSI is present so long as this low holds. Higher prices expected into April of 2019. Conformation of the turn on ETH is a break and conversion of 170.
LTCUSD – Lower as expected and target achieved at 28.34 mentioned last week. Reversal pattern may be forming here. Confirmation of the turn occurs on a break and conversion of $44.  So far so good on the turn — need to see bulls take the tape this week.
Cycle date seems to have worked on 11/25. All targets achieved across the board. Currently we have a potential higher low. Confirmation levels given. We can still make a lower low, but likely only a 30% probability. Bulls need to take the tape this week. A rally through April is expected. The bearish trend from my post on Sept 2nd may be over.  Trade safe.