This is a weekly post covering Cryptocurrencies, specifically  Bitcoin, Litecoin, and Ethereum. These instruments provide trading opportunities with out sized gains. I hope the analysis presented here helps you profit in these instruments.
BTCUSD — An overlapping choppy flag is still printing.  Expecting a print lower to finish this pattern and a strong long setup.  Lower to 16000 would be more of a wash out and buy-able low or a double bottom should be next.
ETHUSD –   Expanded flat printing here and a retest of the low is expected. A higher low is possible here into 1250-1220. A lower low is a gift and a strong buy.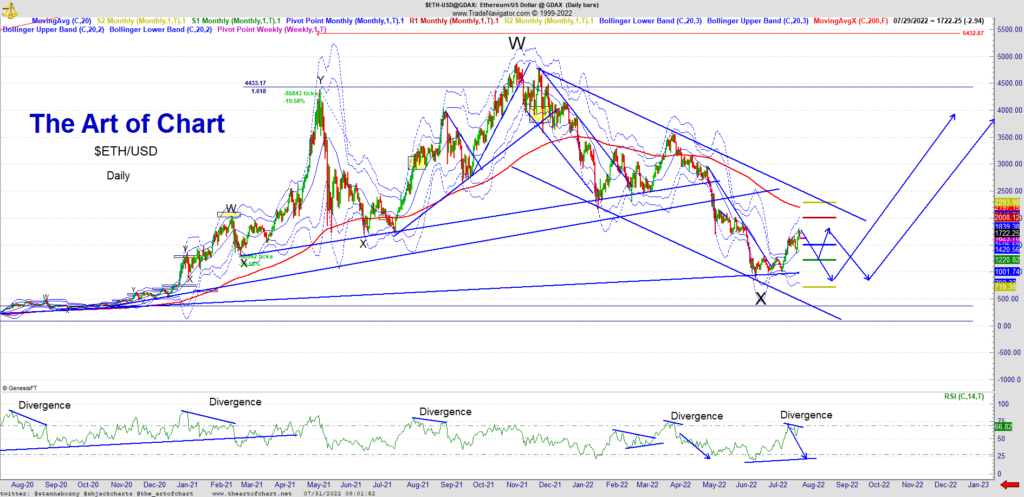 LTCUSD – Positive D in place here and looking for a confirmation of a turn above the monthly pivot.  Flag also printing here so this can retest the low before turning. BTC may see one more low before a turn with the other Cryptos. If so then LTC will follow.

A lower low here is a strong buy for a longer term hold in BTC and if seen here we may see the same with LTC.  The lean is long here and the market is turning. Mind your risk until the turn is confirmed. This is a significant long setup across Cryptos.   Volatility will remain high so mind your size until the trade is confirmed.  Trade Smart and Trade Safe.