I plan to cover just three cryptos every week in this post: Bitcoin, Litecoin, and Ethereum. These instruments provide trading opportunities with out sized gains. I hope the analysis presented here helps you profit in these instruments.
BTCUSD — The wedge we were expecting to break up – broke down. Likely we see a small retrace this week and a lower low to set up positive divergence on RSI and then the next rally. Watch 6600 for support and a reversal.
ETHUSD — The consolidation pattern broke down and we are oversold on RSI – likely we see a small wave 4 and lower for 5 to set up positive D here also. Watch for a reversal around the 131 area.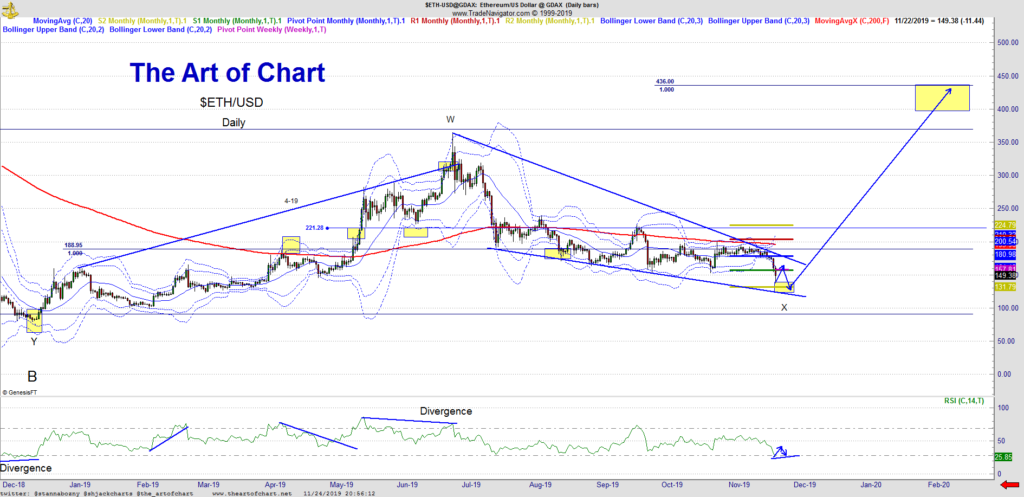 LTCUSD – Not much bullish action yet, I am watching for the monthly S1 pivot for a possible test this week, we should see positive D on RSI here also, LTC is oversold and a  marginal lower low provides a nice setup.

The trend according to my cycle work is still up. We did break down last week and may still see a marginal lower low for the next long setup.  We are oversold across the board which favors the bul camp in the short term.  Trade Smart and Trade Safe.